Top 5 Android Apps For ICC World Cup 2015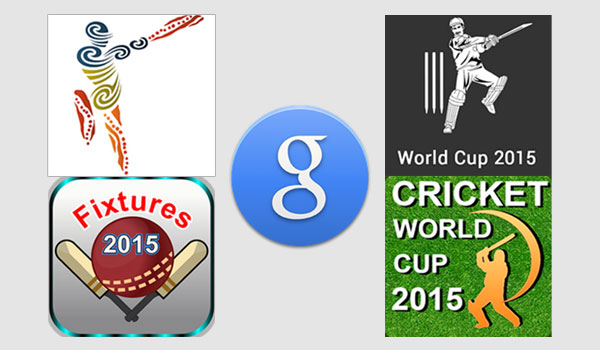 The mega event of cricket world is just around the corner and will properly kick off with a match between New Zealand and Sri Lanka on February 13, 2015. This World Cup will be even more remarkable than the previous ones because there are more ways to keep up with the thrilling moments of the biggest cricket tournament today. With the ever increasing users of smartphones, tablets and other wireless devices, here comes the apps to keep you updated with cricket action wherever you are. Below is the list of top 5 apps for the sporting fans of Cricket to join 2015 ICC World Cup.
Google Now:
Google Now is undoubtedly one of the first place we look into with the purpose of searching anything. This app allows the users to select favorite team to get the updates through score cards whether it be the world cup or any a local match. Google Now works only on devices with Android 4.1 Jelly Bean and greater versions.
Cricket World Cup 2015:
This app gives the users the opportunity to check world cup 2015's match schedule even offline. It offers live scores of the world cup, schedules, points table, news, venues and live match commentary. Apart from this, previous Cricket World Cup history is also embedded in it and also offers impressive in-depth analysis of the matches.
Cricket Cup 2015 Fixtures:
This one is another app that covers all aspects of ICC world Cup 2015. It contains fixture of all matches, results, top players, point table and lot of other extra features. One of the interesting thing about this app is its feature to send the details regarding the World Cup 2015 to anyone by using Bluetooth, Facebook, email, WhatsApp and many more.
Schedule Cricket ODI Cup 2015:
If you're a fan of statistics you'll find app much interesting. Schedule Cricket ODI Cup 2015 is about the tournament countdown, match schedules, live scoring, points table and much more. The interface of this app is actually eye-catching with animations. One of the encouraging part of this app is that it is made by a Pakistani developer and its features compel the users to appreciate the efforts.
ICC Cricket World Cup 2015:
ICC Cricket World Cup 2015 is the official app that International Cricket Council has just released. This app covers almost everything about the world cup event. It informs the user about live scores, match highlights, ball by ball commentary, notifications and exclusive video. Besides this, you can also check tournament stats, breaking news and exclusive interviews of the players.
This was our roundup for the best ICC World Cup 2015 apps, if you know other such apps which are worth downloading, don't forget to post a comment below!