Bomba alarm clock:
A uniquely exposed design was given to the Bomba alarm clock by Dutch designer Will Vanden Vos, showing off all the gears and inner workings that run, like clockwork I guess. The design features the retro-style flip cards to change the displayed numbers like many very early electric alarm clocks used to have. Some light blue LED lights on each side make the numbers readable at night and a simple dial on the side lets you set the approximate time you would like the alarm to sound.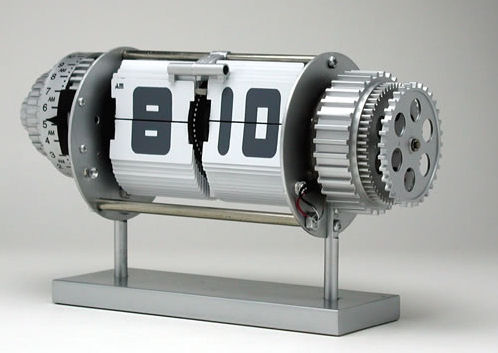 Silent Alarm Clock:
This Silent Alarm Clock Concept will Vibrates You Out Of Bed.Designer Johan Brengesjo has come up with an interesting alternative to the modern alarm clock. His high-tech design incorporates a rubber ring worn on a finger that vibrates to arouse you from sleep.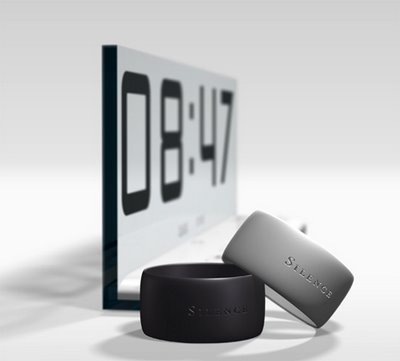 Minimal Dual Digital Analogue Alarm Clock:
This seemingly untitled alarm clock concept by 26 year old German designer Daniel Jarr beautifully fuses traditional analogue based time telling with modern digital time display in a minimalist and decidedly modern alarm clock that certainly sets our pulses racing.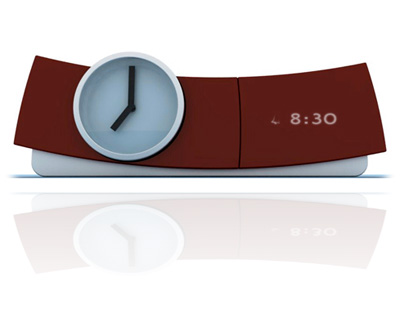 Dirt-Powered Alarm Clock:
It's an alarm clock that can be powered via dirt and you can even grow some nice fairway grass in it.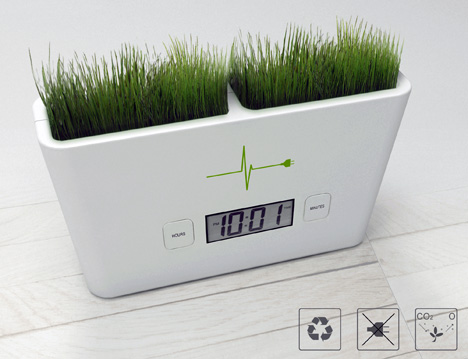 Rubik's Cube Alarm Clock:
This is Rubik's Cube Alarm Clock with Thermometer. Twist the top row, and the display changes between time, temperature, alarm or date.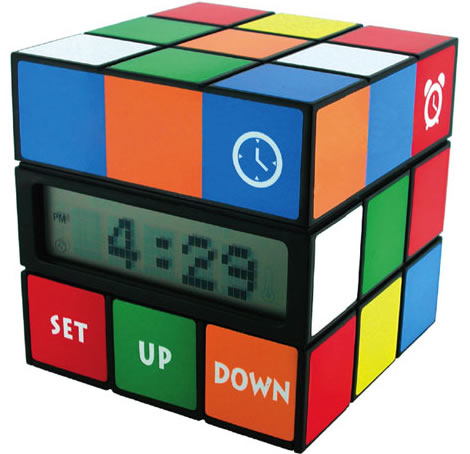 Puzzle Alarm Clock:
Set the Puzzle Alarm Clock just like any other clock but when it goes off all the puzzle pieces fly up into the air and scatter on the floor and table. The only way to turn off the alarm is to put the pieces back into the correct spot on the clock.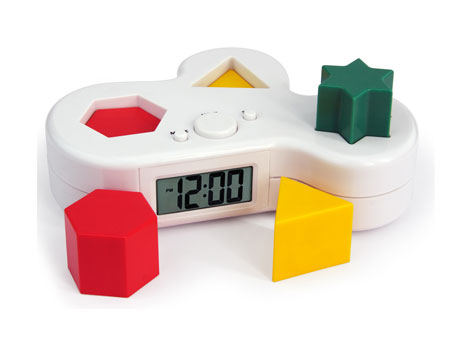 Clocky Alarm Clock:
It is an alarm clock for people who have trouble getting out of bed.If you're like us and hit the snooze button eight thousand times each morning, perhaps it's in your own best interests to have a clock that, say, rolls off the table and finds a new place to hide every day, so you're sure to properly get up the next time it goes off.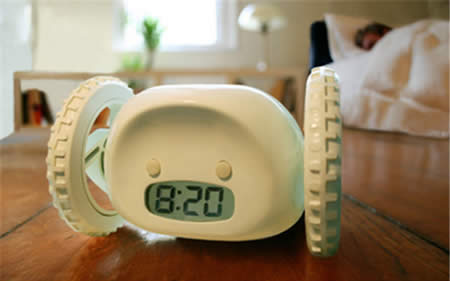 Sfera alarm clock:
The Sfera alarm clock hangs from the ceiling above your bed. When the alarm goes off, you can reach up and touch it to activate the snooze function causing it retract towards the ceiling. When snooze goes off again, you have to reach higher to activate the snooze again. Each time you activate the snooze function the alarm retracts a little higher to the point that you get your butt out of bed.
LED Alarm Clock:
The multi-discipline Gallery1950 creates an LED Alarm Clock in one of their latest releases. The clock and its well-lit LED set-up includes three different color choices dependent on personal tastes and room decor.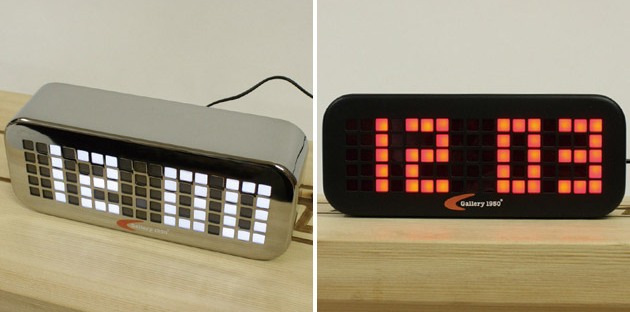 Dynamite Digital Alarm Clock:
Not many clocks should come with a government health warning on them, but this one should. It is ok in the home, but it is not advisable to take this one out with you, as you could end up in serious trouble or worse if that is possible. However, putting those issues aside, this is a really cool looking device that it hard to distinguish between this one and the real thing.
Internet Alarm Clock:
This is no ordinary alarm clock as it can be hooked up to the Internet. Unlike old-school mechanical alarm clocks that you have to set manually, this Internet-connected alarm clock provides three primary features: automatic time setting on power-up, streaming MP3 music, and remote management. The easy-to-use, PIC24FJ64-based clock is connected to an ENC28J60 Ethernet chip, an MP3 decoder chip for streaming music, an organic LED graphical display, and a 24LC512 EEPROM for storing alarm data, fonts, and images.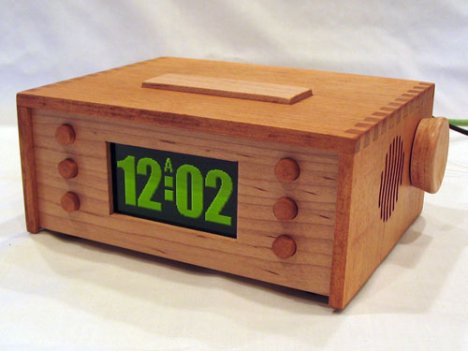 Escape Button Alarm Clock:
This clock is innovatively designed and based on the look of the keyboard's escape key. It shows you the time in digital mode and is black in color, with flashing red lights for the time. When the alarm goes off and you want just a little bit more of snooze, thump on the top with your fist to turn it off. You might also find it to be a nice gift item for someone you care.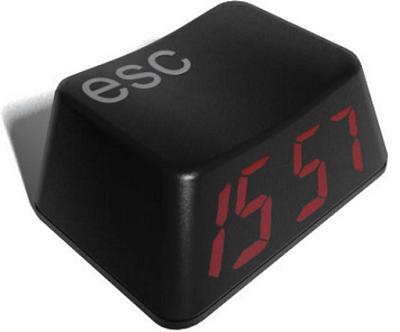 Coin Bank Alarm Clock:
The Coin Bank Alarm Clock has an unusual feature: you can only turn off the alarm by inserting money.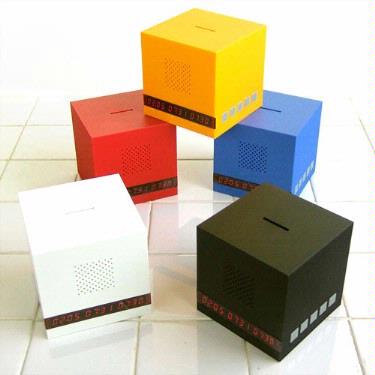 Capsule Alarm Clock:
This capsule clock that comes in several colors looks really funky. The thing I like most about it is that it looks like a vitamin pill, so it's bound to give me some pep in the morning.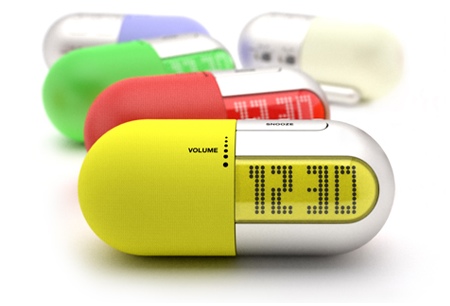 Hope you enjoyed them all
Regards
WaqasSial