The story we heard: In 1492, a Spanish ponce by the name of Christopher Columbus won his long-standing feud with the monarchy and the Catholic church to get funding for a voyage to East Asia. They were afraid that he would fail spectacularly, because everybody knew that the Earth was a flat disc, and the direction Columbus was sailing in would cause him to fall off the edge and into the mouth of the giant turtle that supported it.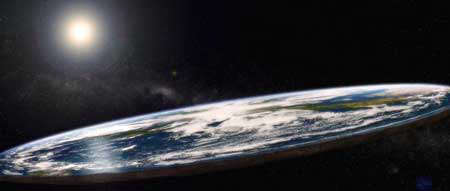 Columbus, as we were told, did fail to reach his destination, but not because the world was flat–it was because he crashed into the future greatest nation on Earth, baby! Thus, Columbus proved the world was round, discovered America, and a national holiday was born.

The truth: In the 1400s, the flat-earth theory was taken about as seriously as the Time Cube theory is today, if not less so. The shape of the world has been pretty much settled since the orb theory was first proposed by the ancient Greek philosopher Pythagoras, around 2,000 years before the existence of Spain.

In fact, the navigational techniques of Columbus' time were actually based on the fact that the Earth was a sphere. Trying to navigate the globe as if it was a flat plane would have fucked up the trip even more than it was.

The Spanish government's reluctance to pay for Columbus' expeditions didn't have anything to do with their misconceptions about the shape of the world. Ironically, it was because Columbus himself severely underestimated the size of the Earth and everybody knew it. The distance he planned to travel wouldn't have taken him anywhere near Asia. Nevertheless, he eventually scraped together enough funds to embark on his ridiculous adventure, and the clusterfuck that was the Columbus voyage has been celebrated annually in the Americas and in Spain ever since.

So where did the myth come from? It began with author and historical charlatan Washington Irving, who wrote a novel about Columbus in 1838. The novel was fiction, but some elements managed to creep into our history textbooks anyway, probably by some editors who wanted to spice it up a bit.