Best Car Racing Games of 2014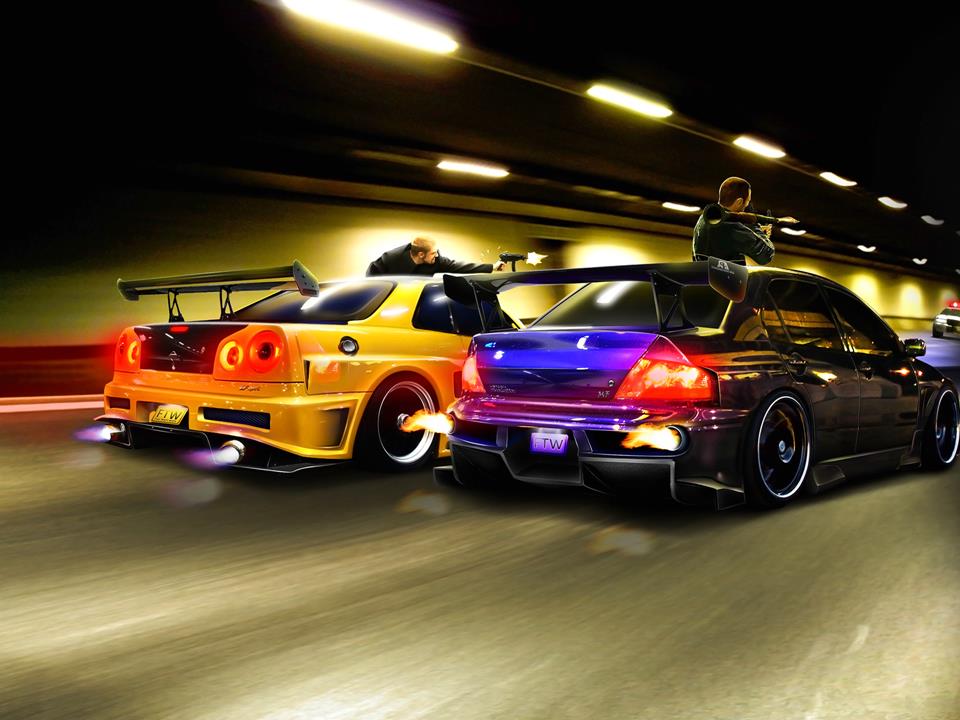 Car racing games are the most popular games around the world, but there are plenty of rubbish games. So here are some of the best car racing games with good gameplay and HD graphics so that you will have good time. Have a look at the ones below as there'll definitely be something to take your fancy. Go on, you've been working too hard.
Classic Car Racing Games
Our classic car games section is one of our most popular. Here are the latest games we've added.
Freeway Fury
is a testing driving game where you have to dodge other traffic on the road while carrying out daring stunts. You can also jump out your car and get into another GTA-style.
Freeway Fury 2
is, yup, you guessed it, the second instalment to Freeway Fury and the sequel to the original game. Better graphics and all-round game-play.
Crosstown Craze
has a great selection of Lego-style vehicles for you to race with, some of which need unlocking during the game. There's a simple objective — avoid the obstacles, collect the bonuses and, er, win.
Carbon Auto Theft 3
has ten levels where you play a car thief. Your mission is to get the right car, sneak in and drive it away without raising the alarm. Are you good enough?
In
Taxi Rush
you drive a bus…only kidding. In Taxi Rush you drive a TAXI. Duh! You have to get your passengers as far as you can in the given time. Other traffic will get in your way, though…so you'll have to use your skills to get around them.
Vehicles 2
sees good vehicles rise up against bad ones. Get the good ones to their correct parking places while shunting the bad ones off the screen.
Halloween Pumpkin Cargo
is one of several Halloween-themed games we added over the Halloween period. But even though Halloween's passed, a lot of the Halloween games out there are really good – so make sure to check them out. Halloween Pumpkin Cargo has 12 intense levels where you have to get across obstacles without losing the pumpkins in your trailer. Not as easy as you might think.
Mining Truck 2
is another one where the name pretty much gives the game away. Yup, you drive a mining truck. The tracks are all deep down inside a mine. You have to get your trolley to the end of each level, and collect as many coins as you can along the way.
City Taxi Driver
sees you pick up passengers and take them to their destination. But you have to do it within the required time and without crashing. Follow the map to get where you want to go.
Rush Hour Bus
sees you drive a bus through rush hour. Who would have thought!
High Speed Car Racing Games
Next up, we've also added some games to our car racing games section.
Street Racer
is a great car racing game. Choose from one of four cool cars, then take to the road. Overtake cars going the same way as you…but avoid the cars coming in the other direction!
Renegade Racing
is one of the best games we've added recently. You get to drive a whole load of different types of vehicles, and can perform jumps, flips and wheelies as you get from A to B.
Awesome Cars
is, well, awesome. You drive at top speed while performing a series of spectacular manoeuvres along the way. Just try and get to the end in one piece!
Moto Rush 2
is a bike racing game, where you have to take part in a series of championships. Come near the top (above Rank C) to qualify for the next one.
Coaster Racer 2
is a behind-the-wheel based racing game where you can drive a bike or car, depending on which you prefer. The trick is staying on the track!
True Halloween Mayhem
is another Halloween-themed game where you have to collect Halloween characters but kill anyone who gets in your way.
Create A Ride
does what it says on the tin, really. It's very detailed, and allows you to customise your car in innumerable different ways.
Ever wondered how you'd dress your car up for Halloween?
Tune Your Scary Car
gives you the opportunity to do just that. Horns, teeth, pumpkins…you name it.
Bike Racing Games
Not everyone can like cars, so we've got a bike games section for everyone else on the planet

Dare Devil
is a stunt game where you have to surmount all of the obstacles and get to the end of each track without crashing.
Bike Mania 2
is DIFFICULT. The tracks are really hard, with a load of different obstacles. Same idea, though…get to the end as quickly as possible without crashing.
Cyclo Maniacs 2
sees you compete with other cyclists on a range of uneven tracks. But to add ot the excitment, you get a booster. All you have to do is get to the end first. Easy, right?
Bike Champ
has a massive 30 levels. Just stay balanced (not easy) and get to the end in the quickest time possible.
Enough of motocross bikes and bicycles. Time to
Get A Grip
on a speedbike in this 'cyber stoppie' game. Good luck…
Car Parking Games
We all love a good car parking games — as it means we don't have to do it in real life and can crash into the other cars around us as many times as we like without the cops being called. Try these ones for size:
In
Car Park Challenge
you have to park as perfectly as you can without any scratches or scrapes to your bodywork. But don't be too slow — as you're being timed.
Park My Car
is pretty similar — except you're parking other people's cars. So you better be extra careful!
A more educational take on parking is
Drivers Ed 2
, as you get an instructor to talk you through various manoeuvres. Not to be used as a substitute to a REAL instructor, though!
Monster Truck Racing Games
Last but definitely not least, we've been boosting our monster truck games section. We all love a bit of monster truck madness…
First up, try
Planet Racer
, which has various different difficulties. The aim is to build up your reputation and become the king of Planet Racer. But you'll have to be good…
Or if you've ever wanted to vent your frustration in a massive truck get behind the wheels of one in
Mad Trucker 2
for the craziest drive of your life.
The last of our Halloween-themed games this year was
Monster Truck Halloween Hunt
, which combines driving a truck with testing your shooting skills. 10 levels. Loads of excitement.
And to finish things off in style, we have for your gaming pleasure —
Deadly Monster Race
. A combination of racing game and monster fun.
That's all for the moment, folks. But check in again soon for more great car games.