The Munna Bhai series began after Vidhu Vinod Chopra agreed to produce Rajkumar Hirani's film Munna Bhai M.B.B.S. He also collaborated on the script for the film. Munna Bhai M.B.B.S. was a runaway success that prompted the duo to contemplate a sequel Lage Raho Munna Bhai.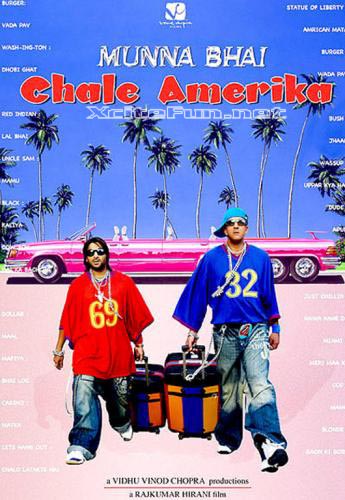 For a nation which highly appreciated the Jaadu Ki Jhappi and Ghandigiri formulae, the third sequel is a much-anticipated film by both the masses as well as the classes. The third sequel in the Munna Bhai sequel is surely going to be a 'hatke' film as it will be extensively shot in the United States of America as Munna Bhai Chale Amrika with his sidekick Circuit.

First look of next 'Munnbhai' flick is out. Title of the movie is "Munnabhai Chale Amerika". Excuse for the spellings, since its Indian style in America. Both Arshad Warsi and Sanjay Dutt are seen in hip avatar. Dressed in funny attire, they are trying to look 'American style' lookwise. Once talking starts it will all be all Munnabhai style.