Katrina Kaif is quickly becoming one of Bollywood's most decorated stars. It's little wonder that she has been romantically linked to famous co-stars like Salman Khan and Akshay Kumar. Katrina Kaif is the cover girl for leading celebrity magazine Vogue India for the month of December 2008. She is very lucky in a way that she is on the cover of same magazine i.e vogue second time within 10 months. She was there on February as well. Here is the cover of Vogue December 2008. Though her year will be ending with the miserable failure of "Yuvvraajâ€. She has been photographed in a Versace silk dress in purple, the colour of the season. She wears drop earring by Bvlgari.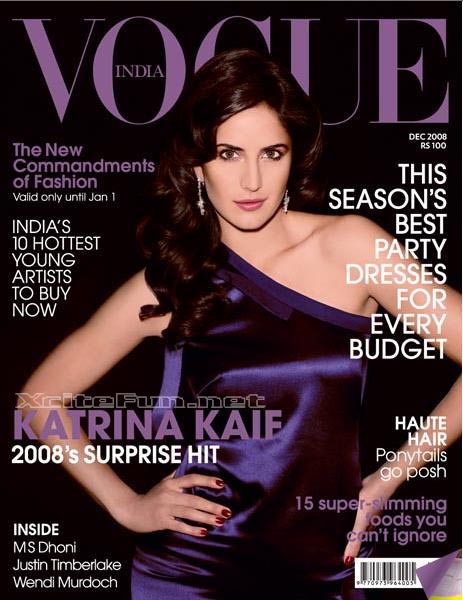 Priya Tanna, Editor of Vogue India, has said: "The mood of the month is celebratory and Katrina embodies it best right now. A winning combination of stunning good looks and box office success she has truly been the surprise hit of '08 and we caught her in a jubilant and vivacious mood in New York."

However, the cover photo fails to capture this upbeat mood and Katrina looks far from her usual dazzling self. Missing most notably are the twinkle in the eyes and the sparkling smile. In fact, we feel it may be even hard to recognize her if one looks at the picture fleetingly.