Hijab Is My Beauty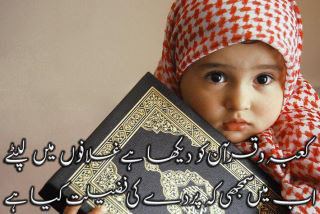 Hijab is Allah's protection of your natural beauty. You are too precious to be on display for each man to see. It is Allahs preservation of your chastity. Allah purifies your heart and mind through the hijaab. Allah beautifies your inner and outer countenance with hijaab.
Hijaab reflects innocence, purity, modesty, shyness, serenity, contentment and obedience to your Lord. Hijab defines your femininity You are a woman who respects her womanhood. Allah wants you to be respected by others, and for you to respect yourself. Hijab raises your dignity. When a strange man looks at you, he respects you because he sees that you respect yourself.
The Hijab seeks greater purity for the hearts of believing men and women, because it screens the desires. Hijab blocks the sight, prevents Fitna and minimizes the chances of any ill thoughts and greed of sickened hearts.
Hijab protects your hon our. Men do not gaze at you in a sensual way, they do not approach you in a sensual way, and neither do they speak to you in a sensual way. Rather, a man holds you in high esteem and that is just by one glance at you!
Hijab expresses your independence. You are stating clearly that you are an obedient servant of the Greatest Master. You will obey no one else and follow no other way. You are not a slave to any man, nor a slave to any nation. You are free and independent from all man-made systems. Rather, Hijab gives you the freedom of movement and expression. You are able to move about and communicate without fear of harassment. Your hijaab gives you a unique confidence.
Allah wants others to treat you – a Muslim woman – with kindness. And the hijaab brings about the best treatment of men towards you.
Hijab preserve and save your beauty for just one man to enjoy i.e; your husband.
Cute Babies In Hijab