Creative Zen Mozaic:

The design of the player stays true to its name, having an assortment of grey and black titles across the front. On paper, the player is fairly similar to the ZEN V series, but increases the screen size to 1.8" and adds a built-in speaker. One notable improvement is in battery life. The Mozaic will provide 32 hours of audio playback. Another difference is the interface, which is closer to the ZEN series than the Zen V.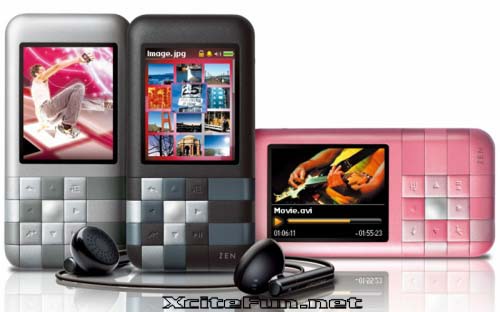 Features:
* Capacity: 2, 4, and 8GB

* Display: 1.8" TFT display (64K colors)

* Audio: MP3, WMA, WAV, and Audible

* Transcoded video support

* FM Tuner

* Voice Recorder

* Built-in speakers

* Battery life: 32 hours for audio

* Colors: Black, Silver, and Pink

* Dimensions: 79.5 mm x 40.0 mm x 12.8 mm

Creative already has a nice lineup of accessories to go along with this new player, including a travelsound speaker system, a skin pack, and a carabiner case. It's nice to see Creative being well....creative with their designs, but I'm not sure if eccentric patterns will gain the appeal of the masses. The ZEN Mozaic is currently selling at Singapore (and Japan) at prices ranging from 99 to 169 dollars, or roughly 73 to 124US dollars. No word on a worldwide release, but we'll update you when we find out.